Meet Carol W. Stevens DDS, MBA a Periodontist that Charlotte County Trusts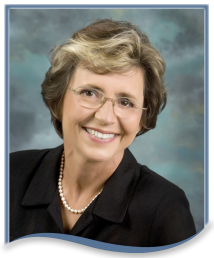 Carol W. Stevens, D.D.S.,M.B.A., Diplomate of the American Board of Periodontology, has over 45 years of experience in the dental care profession and has practiced in Charlotte County since 1988. Dr. Stevens specializes in the treatment and prevention of periodontal gum disease to provide her patients the best predictable results with the latest advanced and pain free technology.
Carol W. Stevens D.D.S., M.B.A. is a Board Certified Periodontist who has made significant achievements beyond the mandatory educational requirements of the specialty of periodontics. Dr. Stevens has been a Diplomate of the American Board of Periodontology since April 10, 1992. The Diplomate certification honors dental professionals who practice a high degree of education, skill and dedication.
What this means to you as a patient:
Carol W. Stevens D.D.S., M.B.A is a professional who has taken the time and effort to prove, before a panel of internationally respected peers, that she is competent enough to hold the specialties highest honor of Diplomate.
By successfully completing the examination process, Carol W. Stevens D.D.S., M.B.A has demonstrated motivation for continued professional development, self evaluation, and to provide the best, up to date professional care.
How to Find the Best Dental Care for You
Why See a Diplomate?
To become educationally qualified to be a Diplomate of the American Board of Periodontology requires:
Certification as a dentist, including basic college education and completion of four years of dental school to earn the DDS or DMD degree and;
Certification as a periodontist after at least two years of postdoctoral study in an American Dental Association approved program that concentrates on the diagnosis, treatment, and prevention of periodontal disease.
In addition to the educational requirements, Board certification requires:
At least four years of actual experience in the clinical practice of periodontics.
Comprehensive oral and written examinations covering all phases of periodontal disease and its treatment, including dental implants.
Presentation of detailed reports on a broad range of actual treatment personally provided by the candidate.
What is The American Board of Periodontology?
Founded in 1939, ABP encourages the study and advancement of the science and art of periodontology. It is officially the oldest American Dental Association recognized specialty board and is the only national certifying board in the dental specialty of periodontics.
For over fifty years the Board has served the public and profession by:
Creating and administering a certification process to identify experts in the field of periodontics
Creating and administering a re-certification process to maintain expertise
Granting and issuing Diplomate certificates to certified experts
Furnishing to patients, insurance consultants and hospital administrators a list of Board Certified Diplomates
Honors
April 10, 1992 – Dr. Stevens became board certified by the American Board of Periodontology. To achieve the distinction, Dr. Stevens was examined by a panel of internationally respected peers and awarded the Diplomate status, one of the highest recognitions of achievement afforded by the specialty.
March, 2010 – Dr. Stevens was appointed by Governor Charlie Crist to serve on the Florida Board of Dentistry. The Florida Board of Dentistry governs all dentists and hygienists practicing in the state of Florida and serves as a "quasi-judicial" entity on licensure issues. She served until November 2013.
Dr. Stevens' Education
Master of Business Administration, University of Sarasota (2002)
Certificate in Periodontics, University of Florida (1988)
Doctor of Dental Surgery, Cum Laude, Medical College of Virginia (1986)
Bachelor of Arts in Psychology, Cum Laude, Florida International University (1982)
Associates of Science in Dental Hygiene, Miami-Dade Community College (1972)
Continuing Education is an enjoyment for Dr. Stevens
Comprehensive Dentistry Program, University of Florida (2 year and 600 hours)
Implant Maxi-course, New York University (1 year and 300 hours)
Mini-Residency in Dental Implantology, University of Miami (1 year and 200 hours)
LANAP (Laser Assisted New Attachment Procedure) Certification (1 year and 70 hours)
IV Sedation Certification (120 hours)
…and many other courses of study
Professional Affiliations
Dr. Stevens belongs to the following organizations to promote professional growth, as well as the art and science of dentistry and periodontics.
Florida Dental License #DN0011012
Florida Dental Hygiene License #002712
Personal Information
In Dr. Stevens' spare time, she pilots a Cessna 172 and is an enthusiastic golfer. She also enjoys dancing and ziplining.  Dr. Stevens has one daughter and two grandchildren living in North Carolina.